Service
Guangzhou Saifeng Sports Development CO., LTD

Address:
Mobile :0086 -18824703789
TEL:020-29049990
Fax :

020-

29049990
Email:
921813259@qq
.com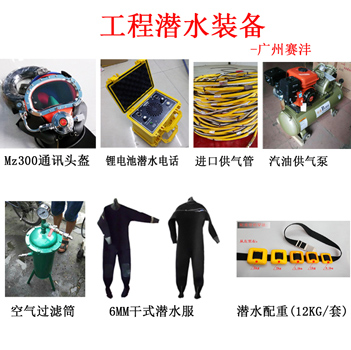 enginer scuba equipment
contact phone
A set of engineering equipment includes: communication helmet communication telephone, air pump, air pump filter, suit, etc.
1. Domestic MZ300 - B: safe and reliable Gas supply adjust agilely Breathe easier Wear comfortable vision Clear communication activity convenient!
Maximum depth: 300 meters Gas supply pressure: 6-14 kg/cm2 Flow 500 l/min
Overall dimensions (mm) : 385 * 355 * 345 weight in the air: 12 kg
The KMB - 28: comparing with the domestic structure consistent (domestic for generic products, USA) better comfort, headset microphone lower failure rate
Cloak better comfort, shell lighter depth of 20 meters, homebred easy look up 28 type would not have this problem
2. Imported drying: imported wear cloth production, resistance to abrasion resistance to cut ceng hang The disadvantage is that is harder than ordinary materials
Domestic drying, heat preservation effect is good, wearing comfortable, relative to the wear-resisting material less resistance to hang
3. The Chinese diving telephone: 3 * 0.75 square waterproof cable
Import diving telephone: import than domestic diving diving phone calls for relatively perfect protection circuit Good quality, strong anti-interference ability
4. Domestic 300 rubber cord tube: rubber hose, pipe inner 10 outer diameter 20 mm, the big weight does not belong to floating pipe, tube itself is also the current engineering pipe not only floating pipe products
Britain imported single pipe, diameter 10 19 mm outside diameter of the tube with high intensity resistance to low temperature wear resistance, is one of the most favorite trachea in domestic engineering diving industry
British ke suit umbilical cord tube: a sounding pipe, a main air tube A communications cable, the domestic air within 60 meters diving best gas supply pipe Can effectively ensure the safety of the divers.